Do you find yourself clicking back and forth between the patient's chart and the perio exam? Take advantage of the timesaving benefits of the chairside dashboard to see both at the same time. In addition to seeing the patient's chart, progress notes, and radiographs in the chairside dashboard, you can save time by overlaying the most recent perio exam on the patient's chart—all with one click. Learn how.
How to:
1. Open a patient's chart.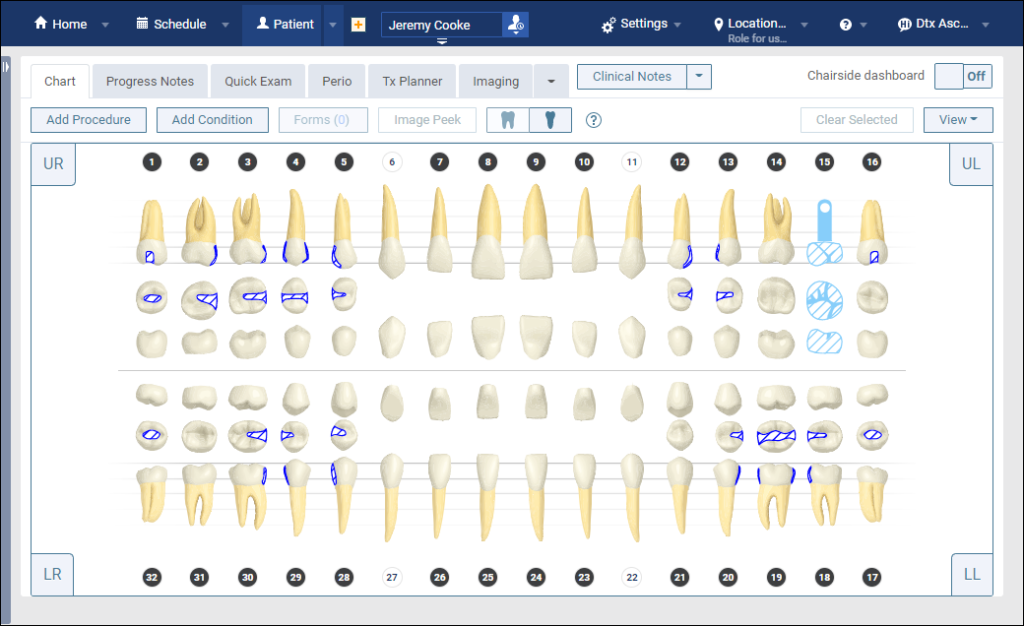 2. If it is not already active, enable the chairside dashboard by toggling the Chairside dashboard switcher to On.
After enabling the chairside dashboard, the chart, progress notes, and radiographs appear.
3. Open the dashboard View menu and select Most recent perio exam.
4. Click Done. The most recent perio exam appears on the patient's chart along with their existing restorations, conditions, and treatment-planned procedures—all in one view.
Additional Information
The buccal view of the most recent perio exam values overlays the graphic chart.
To learn more about the chairside dashboard, watch Using the Chairside Dashboard.
To resize the progress notes panel, drag the sizing handle in between the tooth chart and progress notes up or down as needed.